~ Perth Gem and Mineral Show | 17 – 19 Sept 2021 ~
About Perth Gem and Mineral Show (PGMS)
The Perth Gem and Mineral Show is envisioned to be the premier mineralogical and geoscience event of Western Australia. Held at the Curtin University Stadium, the three-day event will showcase many of the wonders that the mineral, gem and geoscience communities have to offer, with a special focus on Western Australia's mineral heritage.
Hosted by the Mineralogical Society of Western Australia (
MinSocWA
), the inaugural Perth Gem and Mineral Show (
PGMS
) starts on FRIDAY, Sept 17 and concludes on SUNDAY, Sept 19.⁠
PGMS information:
Venue: Curtin Stadium
Address: B111 University Kent Street, Bentley, W.A.
Date: Friday, 17th Sept – Sunday, 19th Sept
Time: Fri 12pm – 5pm ; Sat 9am – 5pm ; Mon 9am – 4pm
Entry Fee: $5 for Adults; $2 for Concession; kids under 16 are FREE
Ticket Sales: EventBrite
Our involvement at Perth Gem and Mineral Show
Desert Fire Designs is proud to be one of the 'Bronze' sponsors of this highly anticipated event, which is the largest ever to happen in Western Australia. ⁠We're also excited to be an exhibitor at the PGMS, with at least 8 cabinets showcasing our exquisite and unique suite of finished gems and jewellery.
⁠
Some of the stunning collection of mineral specimens and cut gems that will be available for purchase include
Marra Mamba Tiger Eye
from the Pilbara region of WA,
Boulder Opal
from the Winton area of QLD and the highly sought after
Gold in Quartz
from the now legendary Beta Hunt Mine in WA.⁠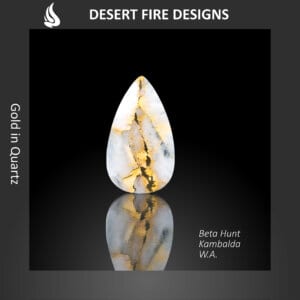 You'll be blown away by the true wonder of the natural world as you witness the exquisite pattern and colour of these geological materials. "They're like artworks of nature", said Pete Willems – a committee member of PGMS. And we couldn't agree more.
Our new suite of gems
We'll also be debuting our new suite of Chrysoprase cabochons at PGMS, known as the 'Rockpool' series. Appropriately named because they're reminiscent of rockpools found along our glorious and extensive WA coastline.
Seminars at Perth Gem and Mineral Show
Over the weekend, a range of casual, interactive and discussion-based seminars will be held in the afternoons at the PGMS. I'll be presenting a talk on the Fashioning of Gem materials on Saturday.
Get in early as there's limited seating.
Location: Room 128, Eastern Wing of Curtin Stadium
Time/Day: 2.20pm on Saturday, 18 September
Duration: 50 minutes
Limited Seating: for up to 30 people only
Sundowner Event at The Arts Rubicon
An exclusive sundowner event will be held at The Arts Rubicon venue in Burswood on Saturday evening, Sept 18. The event will provide an exclusive ticketed chance to socialise and network with passionate like-minded members of the public, industry and mineral curators.
We're thrilled to announce that we'll be donating several items to this event which will be auctioned off for charity, giving guests the chance to obtain some very rare items not commonly available for their collection. ⁠⁠Hurry! Tickets are selling fast.⁠
Admission Ticket: AUD$38.01⁠
Venue: Arts Rubicon⁠
Address: 20 Thorogood St, Burswood WA 6100⁠
Date: Saturday, 18 September
Time: from 6.30pm⁠ till late