~ Perth Gem and Mineral Show | 14 – 16 Oct 2022 ~
About Perth Gem and Mineral Show (PGMS)
After the roaring success of the 2021 inaugural edition, the Perth Gem and Mineral Show (PGMS) is back for its second year!⁠
Attracting a large contingent of mineral collectors, geologists, jewellers, mining professionals, students, hobbyists and commercial dealers, this event enables businesses from the mineralogical, geological and geoscience sectors to share their collections and knowledge with fellow peers and the general public.
With over 3000 visitors coming through the gates in 2021, the Perth Gem and Mineral Show will again be held at the Curtin University Stadium this year. Spanning over 3 days, the event will showcase many of the wonders from the mineral, gem and geoscience communities, with a special focus on Western Australia's mineral heritage.
Hosted by the Mineralogical Society of Western Australia (
MinSocWA
), and
Sandfire Resources
as their major sponsor, the 2022 Perth Gem and Mineral Show (
PGMS
) officially starts on FRIDAY, October 14 and concludes on SUNDAY, October 16.⁠
PGMS information:
Venue: Curtin Stadium
Address: B111 University Kent Street, Bentley, W.A.
Date: Friday, 14 Oct – Sunday, 16 Oct
Time: FRI 12pm – 5pm ; SAT 9am – 5pm ; SUN 9am – 4pm
Entry Fee: $5 for Adults; $3 for Concession; kids under 16 are FREE
Ticket Sales: EventBrite
Our involvement at Perth Gem and Mineral Show
Desert Fire Designs is proud to be one of the 'Emerald' sponsors of this highly anticipated event, which is the largest ever to happen in Western Australia. ⁠We're also excited to be exhibiting again at the Perth Gem and Mineral Show, showcasing our exquisite and unique suite of finished gems and jewellery.
⁠
The theme for this year's Perth Gem and Mineral Show is GOLD. Some of the stunning collection of mineral specimens and cut gems that we'll be showcasing include the highly sought-after
Gold in Quartz
from the now legendary Beta Hunt Mine in WA.⁠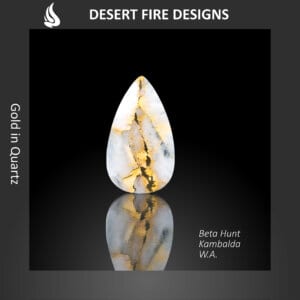 Seminars at Perth Gem and Mineral Show
As part of the Perth Gem and Mineral show, there are free Seminars open to the public on Saturday and Sunday. Get in early as there's limited seating. Check the programme on the Perth Gem and Mineral Show website
here
PGMS Sundowner and Auction Evening
Sponsored by AngloGold Ashanti Australia, the Sundowner and Auction Evening for the 2022 Perth Gem and Mineral Show will be held on Saturday, October 15 at the Camfield Function Hall in Burswood (next to Optus Stadium).
If you are a mineral collector, geologist, jeweller, mining professional, student, hobbyist or commercial dealer and wish to socialise with like-minded people AND raise money for a great cause – this event is for you.
This year, the money raised will go to the following charities: Deadly Science, Kanyana Wildlife Rescue, Street Friends WA and the Mineralogical Society of WA. In 2021, the Sundowner Auction Evening raised over $16,000 for 4 charity organisations.
Admission Ticket: AUD$50
Venue: The Camfield
Address: 1 Roger MacKay Drive Burswood, WA 6100
Date: Saturday, 15 October 2022
Time: 6.30pm⁠ – 10.30pm
We look forward to seeing you at the Show!